LANDPARK ADVISORS SECURES STRATEGIC SELF-STORAGE ASSET IN PORT ARTHUR, TEXAS
July 21, 23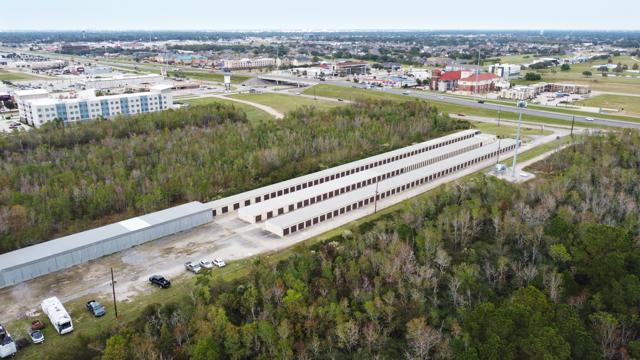 HOUSTON, Texas, July 20, 2023 -- LandPark Advisors, LLC, in collaboration with Sunset Capital, LLC (collectively, "LandPark Sunset Storage II") has successfully procured a key self-storage facility in the burgeoning city of Port Arthur, Texas. The facility, presently known as "Park Central Self Storage," will soon operate under the brand of Right Move Storage.
Positioned on Port Arthur's primary business artery, Park Central enjoys notable prominence along Memorial Boulevard (US Hwy 96/287), a crucial route connecting Port Arthur and Beaumont, frequented by approximately 55,000 vehicles daily. The site is enveloped by a flourishing retail environment, including Central Mall Port Arthur and major retailers such as Walmart, Lowe's, and Office Depot. The area is also witnessing a surge in dining options, contributing to the community's vibrant lifestyle.
Significant residential growth is observable in the form of new multi-family housing developments in the vicinity, further strengthening the locale's consumer base. The nearby Memorial High School and a newly constructed Residence Inn by Marriott signal the continual progress and investment in Port Arthur.
Moreover, the facility is strategically located in the "Golden Triangle" of southeast Texas, a region replete with key energy players. In particular, the new multi-billion dollar L&G plant, merely 14 miles away, is propelling the local economy and driving up demand for storage facilities. Park Central, situated on 3.75 acres, offers 48,430 square feet of storage space across 312 units, inclusive of drive-up Boat/RV storage.
Peter Wall, CFO of LandPark Advisors, LLC, expressed his enthusiasm about the deal: "We are thrilled to expand our footprint with Sunset Capital by partnering on an additional value-add storage facility after the acquisition of a nine-property portfolio in East Texas in late 2022." Wall further elaborated, "This acquisition presents a notable opportunity for us to add substantial value. Recognizing that Park Central's prior management, undertaken by the siblings of the original owner/developer, had not previously ventured into digital avenues for enhanced visibility and marketing, we see a vast potential to leverage these aspects for the facility's growth and operations through Right Move Storage."
From an operations prospective, Darren Kelley, President of Right Move Storage, noted: "Our comprehensive due diligence process identified the presence of handwritten ledgers and legacy management systems at Park Central. To propel the facility to the forefront of the market, we plan on implementing our advanced revenue management software and deploying a state-of-the-art website, in line with its imminent rebranding as Right Move Storage Memorial Blvd."
LandPark Advisors (www.landparkco.com), based in Houston, is a private commercial real estate investment management firm providing asset, property, construction management, and leasing services through LandPark Commercial and Right Move Storage. LandPark Advisors specializes in procuring value-add assets on an opportunistic basis and delivering top-tier third-party property management and leasing services. For more information, please contact Bill McGrath, CCIM, President of LandPark Advisors, at 713-789-2200.
Right Move Storage (www.rightmovestorage.com), ranked 17th nationally on Inside Self Storage's 2022 Top Operators' List, oversees more than 50 self-storage facilities across multiple states. Right Move provides a comprehensive suite of services tailored to property owners' needs. For further information, contact Darren Kelley, President of Right Move Storage, at 832-415-3315.