LandPark Advisors Acquires Eight Property Self- Storage Portfolio In East Texas
January 16, 23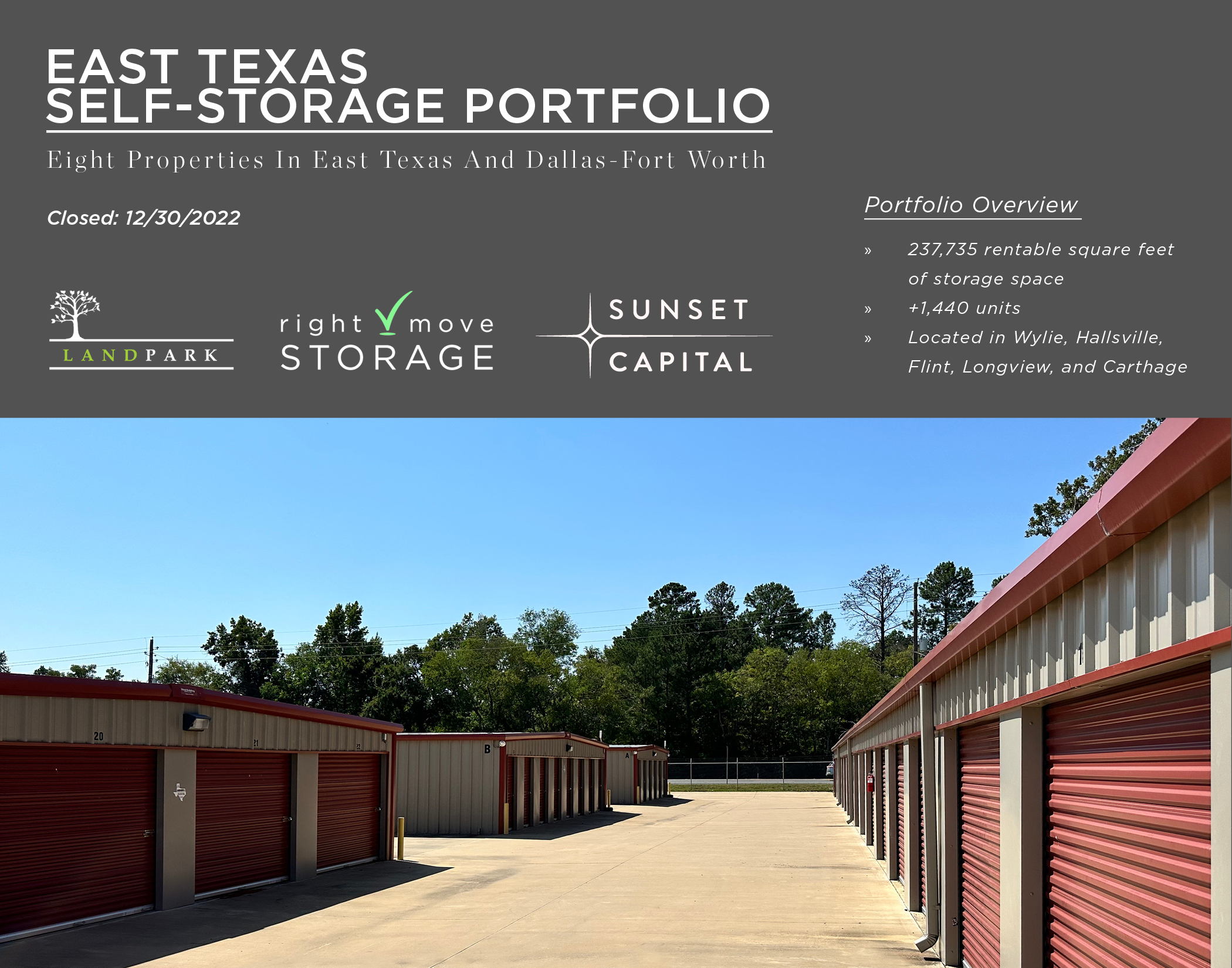 HOUSTON, Texas, January 17, 2023 - LandPark Advisors, LLC in a joint venture partnership with Sunset Capital, LLC acquired an eight (8) property self-storage portfolio located in East Texas / Dallas-Ft Worth MSA, Texas (the "East Texas Self Storage Portfolio").
The East Texas Self-Storage Portfolio consists of eight self-storage facilities located primarily throughout East Texas and is comprised of 237,735 rentable square feet of storage space totaling over 1,440 units located in Wylie, Hallsville, Flint, Longview, and Carthage. Right Move Storage, LLC will be responsible for the day-to-day management of the portfolio and instrumental in enacting a comprehensive repositioning strategy by extensively improving and rebranding the appearance of the portfolio while implementing an efficient leasing and management strategy.
According to Peter Wall, CEO of LandPark Advisors, LLC, "We are thrilled to partner with Sunset Capital and this portfolio provides an attractive opportunity to acquire a substantial footprint throughout the vibrant East Texas market while simultaneously gaining exposure to the Dallas-Fort Worth MSA." Mr. Wall further added, "Consolidation of the operational model will undoubtedly provide our partnership, through the management services of Right Move Storage, with an opportunity to streamline expenses and increase managerial efficiencies throughout the hold period."
Darren Kelley, President of Right Move Storage comments, "Right Move has intimate knowledge of these assets and we believe there is significant market demand for quality self storage in these Texas markets. This portfolio will demonstrate both solid occupancy and market rental rates once we implement the turnaround business plan. This gives Right Move Storage a significant presence in the East Texas storage market while advancing the LandPark and Right Move Storage growth strategy. We look forward to many more in the coming months and years."
LandPark Advisors (www.landparkco.com) is a private, full service commercial real estate investment management firm based in Houston as well as asset, property and construction management through the services of LandPark Commercial and Right Move Storage. LandPark Advisor's primary focus is acquiring value-add assets on an opportunistic basis while offering best-in-class third-party property management. For additional information, please contact Bill McGrath, President of LandPark Advisors at 713-789-2200.
Right Move Storage (www.rightmovestorage.com) was ranked #17 Nationally on Inside Self Storage's 2022 Top Operators' List and has over 50 self-storage facilities under management throughout multiple states. Right Move offers a wide range of tailored services to meet the needs of property owners. For additional information, please contact Darren Kelley, President of Right Move Storage at 713-789-2200.